AAU Ekpoma SUG notice to students ahead of resumption
This is to inform students of Ambrose Alli University (AAU) staying in the school hostels that ahead of the school resumption, the following are compulsory requirements for occupants and must be presented before admission into halls of Residence
1. Pack of medical face Masks.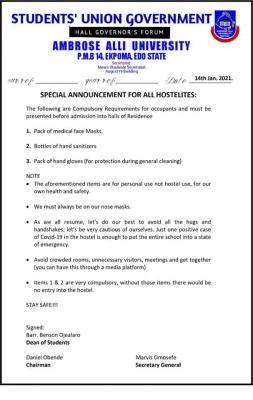 2. Bottles of hand sanitizers
3. Pack of hand gloves (for protection during general cleaning)
NOTE
• The aforementioned items are for personal use not hostel use, for our own health and safety
• We must always be on our nose masks.
As we all resume, let's do our best to avoid all the hugs and handshakes, let's be very cautious of ourselves. Just one positive case of Covid-19 in the hostel is enough to put the entire school into a state of emergency
• Avoid crowded rooms, unnecessary visitors, meetings and get together you can have this through a media platform)
• items 1 & 2 are very compulsory, without those items there would be no entry into the hostel
STAY SAFE!!!