AAU necessary COVID-19 and Lassa Fever rules and guidelines for students in the hostels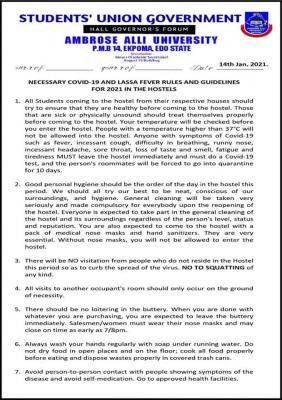 This is to inform All Students coming to the hostel from their respective houses should try to ensure that they are healthy before coming to the hostel. Those that are sick or physically unsound should treat themselves properly before coming to the hostel. Your temperature will be checked before you enter the hostel. People with a temperature higher than 37″ will not be allowed into the hostel. Anyone with symptoms of Covid-19 such as fever, incessant cough, difficulty in breathing, runny nose. incessant headache, sore throat, loss of taste and smell, fatigue and tiredness MUST leave the hostel immediately and must do a Covid-19 test, and the person's roommates will be forced to go into quarantine for 10 days.
2. Good personal hygiene should be the order of the day in the hostel this period. We should all try our best to be neat, conscious of our surroundings, and hygiene. General cleaning will be taken very seriously and made compulsory for everybody upon the reopening of the hostel. Everyone is expected to take part in the general cleaning of the hostel and its surroundings regardless of the person's level, status and reputation. You are also expected to come to the hostel with a pack of medical nose masks and hand sanitizers. They are very essential. Without nose masks, you will not be allowed to enter the hostel.
3. There will be NO visitation from people who do not reside in the Hostel this period so as to curb the spread of the virus. NO TO SQUATTING of any kind.
4. All visits to another occupant's room should only occur on the ground of necessity.
5. There should be no loitering in the buttery. When you are done with whatever you are purchasing, you are expected to leave the buttery immediately. Salesmen/women must wear their nose masks and may close on time as early as 7/8pm.
6. Always wash your hands regularly with soap under running water. Do not dry food in open places and on the floor; cook all food properly before eating and dispose wastes properly in covered trash cans.
7. Avoid person-to-person contact with people showing symptoms of the disease and avoid self-medication. Go to approved health facilities.