ABU Students' Representative Council notice on resumption
The leadership of Ahmadu Bello Univerisity Students Representative Council (ABU-SRC) has met with the school management regarding the reopening of the school.
The Management responded as follows: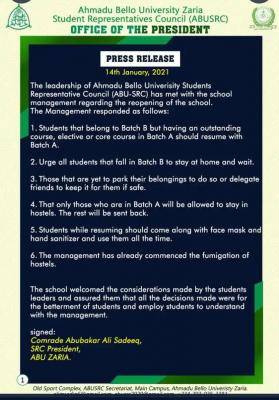 1. Students that belong to Batch B but having an outstanding Course, elective or core course in Batch A should resume with Batch A.
2.Urge all students that fall in Batch B to stay at home and wait.
3. Those that are yet to park their belongings to do so or delegate friends to keep it for them if safe.
4. That only those who are in Batch A will be allowed to stay in hostels. The rest will be sent back.
5. Students while resuming should come along with face mask and hostels sanitizer and use them all the time.
6. The management has already commenced the fumigation of hostels.
The school welcomed the considerations made by the students leaders and assured them that all the decisions made were for the betterment of students and employ students to understand with the management.
signed:
Comrade Abubakar Ali Sadeeq,
SRC President,
ABU ZARIA.