FUBK notice on resumption of academic activities
The Federal University Birnin Kebbi (FUBK) has fixed Monday, January 18, 2021 as the date for the resumption of academic activities in the institution. This is the sequel to the approval for reopening by the Senate of the University at its 22nd (special) meeting held on Thursday, January 14, 2021.
Based on the adjusted Academic Calendar, completion of First Semester Lectures (Revision) takes place in Two Weeks from Monday, January 18 to Saturday, January 30, 2021. Accordingly, the First Semester examination commences Monday, the 1st of February, 2021 for the 2019/2020 Academic Session.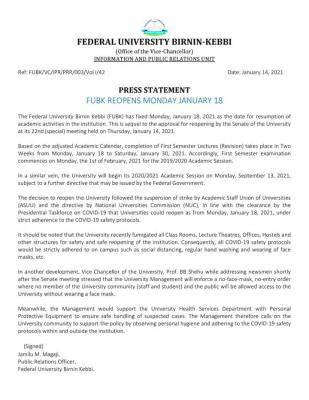 In a similar vein, the University will begin its 2020/2021 Academic Session on Monday, September 13, 2021, subject to a further directive that may be issued by the Federal Government.
The decision to reopen the University followed the suspension of strike by the Academic Staff Union of Universities (ASUU) and the directive by the National Universities Commission (NUC), in line with the clearance by the Presidential Taskforce on COVID-19 that Universities could reopen as from Monday, January 18, 2021, under strict adherence to the COVID-19 safety protocols.
It should be noted that the University recently fumigated all Class Rooms, Lecture Theatres, Offices, Hostels and other structures for safety and safe reopening of the institution. Consequently, all COVID-19 safety protocols would be strictly adhered to on campus such as social distancing, regular hand washing and wearing of face masks, etc.
In another development, Vice-Chancellor of the University, Prof. BB Shehu while addressing newsmen shortly after the Senate meeting stressed that the University Management will enforce a no-face-mask, no-entry order where no member of the University community (staff and students) and the public will be allowed access to the University without wearing a face mask.
Meanwhile, the Management would support the University Health Services Department with Personal Protective Equipment to ensure safe handling of suspected cases. The Management, therefore, calls on the University community to support the policy by observing personal hygiene and adhering to the COVID-19 safety protocols within and outside the institution.
(Signed)
Jamilu M. Magaji,
Public Relations Officer,
Federal University Birnin Kebbi.