IBBUL notice on resumption of date for School of Preliminary Studies
This Is to Inform students and parents/guardians that the management of School of Preliminary studies IBB University fixes 18th January, 2021 for resumption.
In line with the Observance of COVID-19 protocols, all students are expected to come with face mask. No students would be allowed into the lecture room without face mask.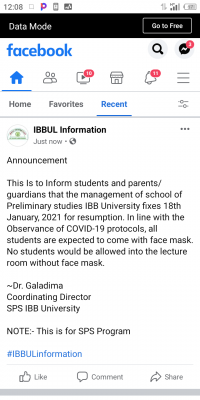 ~Dr. Galadima
Coordinating Director
SPS IBB University
NOTE:- This is for SPS Program