UNIABUJA Centre for Distance Learning notice on resumption
This is to remind all CDL&CE Students that the Centre has resumed full academic activities with screening, registration and online payment of school fees for both New and Returning Students going-on simultaneously in line with the revised Academic Calendar for the 2019/2020 Session as approved by the Centre Management.
As online facilitation is scheduled to commence, all students are enjoined to conclude their registration and online payment of necessary fees immediately as any delay in the process will attract payment for late registration.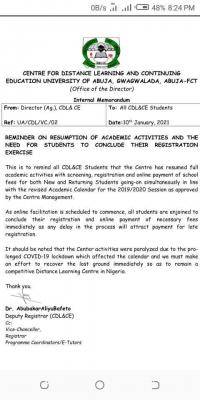 It should be noted that the Center activities were paralyzed due to the prolonged COVID-19 lockdown which affected the calendar and we must make an effort to recover the lost ground immediately so as to remain a competitive Distance Learning Centre in Nigeria.
Thank you.